Meet Jesse, our CTO based in Hammersmith.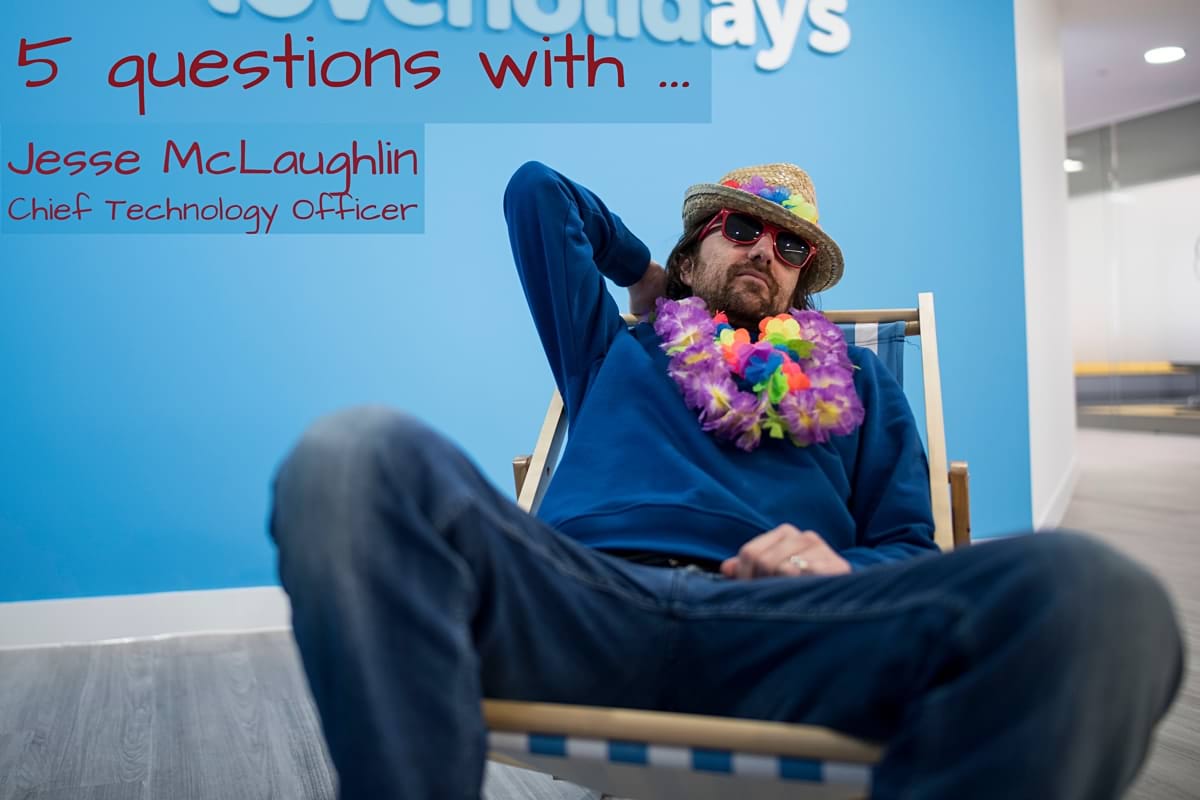 Jesse joined loveholidays over 9 years ago, making him one of our longest serving employees.

1.  What is your favourite holiday destination and why?
The Greek Islands are a big favourite for me.  Santorini is one of my favourite places.  The sunset out over the caldera is one of the most beautiful things, you feel like you're in it.   And from there an island hop by ferry to Mykonos is a great way to get to know the Cyclades.
2.  What does your role involve?
I've been around the business from the start and have seen it grow many times over.  My role is on the engineering side - inventing solutions in new areas the business wants to take on, and also re-inventing solutions in areas we've previously tackled but which the business has since scaled beyond.  I do less actual coding now, but just as much talking, talking and more talking with our engineers about how we're going to keep building and scaling systems that are 99.9% software.

3.  What are your main work projects/challenges for 2019?
Even though the business is doing very well, there is still a lot more efficiency we could get out of the search and selling system, and so do even better.  One of the ways we can improve is by setting our prices so as to maximise not only the probability that our visitors will find themselves a great deal, but also our own profitability when that happens.  This is the proverbial (but in this case glorified) lemonade stand.  The problem is harder than selling just lemonade because our pricing landscape varies across so many different dimensions, from geography, to length of stay, to season, to type of traveller.  This year I will be working on building systems that can handle the millions of possible combinations and permutations of pricing inputs and outputs, so that no matter who you are or where you want to go, you'll find a great deal with us, and we'll continue to grow as a business.
4.  If you had to pick one thing you love about working at loveholidays, what would it be?
My favourite thing from the beginning about working at loveholidays has been the sense of ownership you have over what you're creating and putting in front of customers.  There's a satisfaction in seeing your code go to production, and then realising the job has only just begun.  There's a very fast cadence to the engineering environment here - the sense of force-feedback is strong.  You do something and the effects are felt immediately, it definitely keeps me engaged.
5.  What would be your pitch for someone considering joining loveholidays?
Come and be part of the fastest growing, most profitable online travel company in the UK.  If you enjoy being a part of something that's smashing it but doesn't see that as a reason to stop or even slow down, then this is the place for you.  We're doing it with technology, and we need you.