Meet Steven, our Training & Quality Manager based at our HQ in Hammersmith.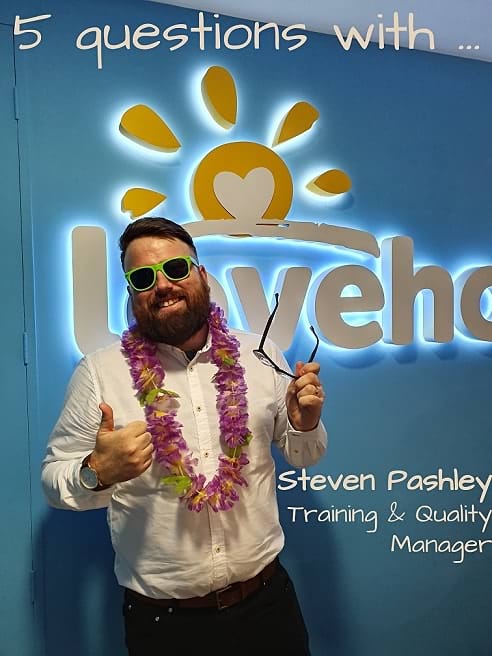 What is your favourite holiday destination and why?
A favourite long-haul destination of mine is New York, Brooklyn to be exact. I'm a huge old-school Hip-Hop fan and so much of it was born there, it holds a special place for me. I was lucky enough to win a trip there a couple of years ago and was fascinated by the City.
Short haul would be Bordeaux, I worked and lived in France just over 10 years ago and fell in love with the country. Whilst I moved back to the UK a lot of my friends stayed in France moving to Bordeaux and making great lives for themselves. The city is just fantastic, beautiful and so, so lively.
What does your role involve?
I'm Training & Quality Manager here at loveholidays. It's been incredibly fast paced, and I've loved every single second so far. It's a role we haven't had permanently in Hammersmith thus far, so it really does make for an exciting prospect moving forward.
My role is to manage anything and everything training and quality, be it our introductory inductions for all customer facing departments, 'up-skilling' our current employees or 'cross-skilling' where required.
This will also include our agent's quality on the phones as well as the systems they are using on a day-to-day basis. Calls are listened to in order to determine competencies and knowledge base in order to determine where we are lacking and of course, excelling, I then look at how to improve these should we need to.
I've worked similar roles in the past and whilst new here, it's incredibly rewarding. Being the first port of call for new starters and developing them into competent, comfortable agents is by far my favourite part, there is nothing like being part of someone's personal and professional growth.
What are your main work projects/challenges for 2019?
My first few weeks here have mostly been spent in Customer Service inductions as CS are growing at such rapid speed. Once complete my priority will be to look at our Quality platforms and essentially building these from scratch. Looking at a central location for all training documentation to be stored amongst other information and up-skilling our current staff. I recently rebuilt our current Customer Service Induction and am using the "prototype" as we speak, so refining that will be a big part of my day… Main focus however, Quality, Quality, QUALITY!!
If you had to pick one thing you love about working at loveholidays, what would it be?
This early in, I'd struggle to pick just one. The environment is huge for me, be it the office itself or those of us working inside of it. It goes without saying, the space is incredible. It's tastefully done, travel related with so much thought having gone into it. I've been introduced to our top of the range training room/facilities and I never want to leave!
We've worked hard to bring in a wonderful group of people here who seem to bounce off one another well and above all complement each other's personalities and working styles. It's a very humble place to be and as previously mentioned I'm really enjoying being a part of it.
What would be your pitch for someone considering joining loveholidays?
loveholidays is an incredibly forward-thinking and fast-paced place to be. Unafraid of experimenting and always looking to challenge themselves and their employees. They are willing and able to offer opportunities to those who relish the idea of progression and look to bring those who don't along for the ride. It's a fantastic place to learn more about the industry enabling you to immerse yourself in an environment where striving to do your best is "the norm".